Our Mission: Your Maximum Potential
Here at Advanced Design Concepts, Inc., vision doesn't just drive our business — vision is our business. We engineer successful futures.
We use innovation, expertise and extensive operating capacity to help you reach your maximum potential — on your schedule. We provide comprehensive design and manufacturing services. Everything happens under one roof, including design, testing and manufacturing.
Starting with your ideas, needs and specifications, we make quality products that are: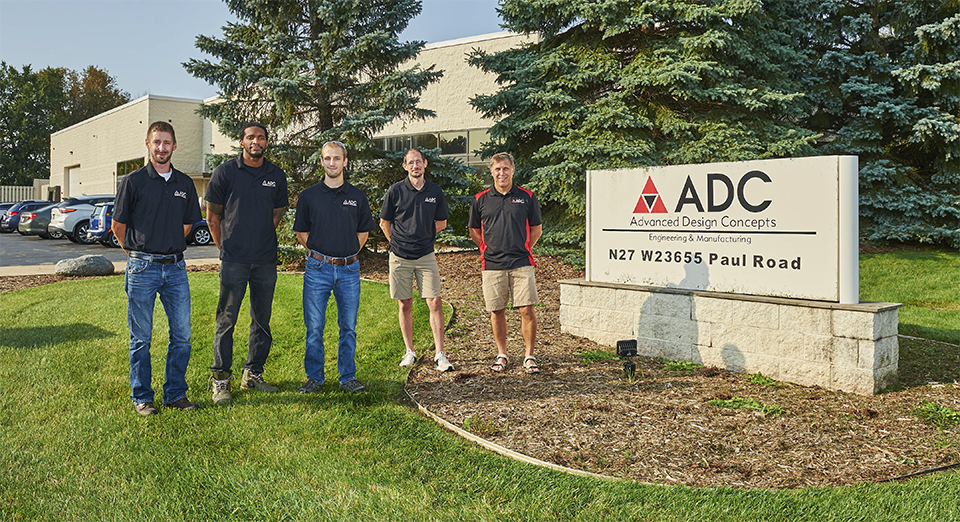 Engineered to the highest standards (ISO 9001:2015, certified by Verisys Registrars)
Intuitive for end-users
Aesthetically pleasing
Simple and inexpensive to build
We imagine, develop, test and build. We make quality parts and products. We are prepared to support you with specific services or take control of the entire development and manufacturing process. No design is too ambitious, and no challenge is too complex.
Capacity
Our line of work requires us to take on big, complex jobs, complete them quickly and maintain the highest level of quality throughout the process. To do that, we employ ample staff in specialized design, tooling, operations and engineering fields to complement the resources of your organization. We also maintain cutting-edge, high-output facilities.
Speed
You'll be pleasantly surprised — some of our clients would call it shocked — at how fast we produce results. Prototyping, just-in-time manufacturing, design: Our goal is to meet or exceed your expectations for delivery times. We can help you meet that deadline.
Expertise
ADC is committed to providing the highest level of expertise available in the field of design and manufacturing. The key is our team. We retain and attract the best talent by fostering a strong company culture, centering on these principles:
Respect for employees
Customer satisfaction
Integration & communication
Entrepreneurial spirit
Safety
Profitability
Innovation
Innovation is the core of our business. We don't believe in impossible design challenges. We see them as opportunities to create novel solutions.
We are constantly learning, exploring and upgrading our facilities. We stay on the cutting edge so we can turn your challenges into competitive advantages.
Our Dedication to Quality
ADC provides a single solution to all of your engineering and prototyping needs. We put our broad technological capabilities, engineering experience, and state-of-the-art facilities to work for you. Our quality commitments: 95% satisfaction rates and fewer than 5 total complaints annually.
We are ready to take on any design challenge in any capacity. Do you need to move your project quickly and efficiently from sketched concept to a manufactured product? Maybe you need assistance with a single aspect of the product development process, such as scanning, finite-element analysis or parts-efficiency audits.  ADC is ready to help. Contact us today.

Solving engineering design challenges since 1993